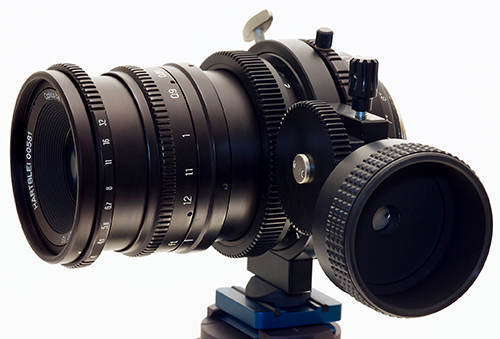 This lens with Optics by Carl Zeiss is an outstanding Shift and Tilt lens in a massive housing and exceptional image quality. It was originally constructed for the 6 x 6 format and has therefore enormous room for improvement when used on a 35 mm camera.
The slightly longer focal length results in a perfect distance to the subject, allowing studio photographers with full format chips to set the lights without problems.
For all crop sensors with a factor of 1.3 or 1.5 this is the perfect tele Macro lens for shots with distance needed. You do Tabletop or Stillife Photography? This is the perfect lens for you leaving enough space for your lighting. Users of full format cameras will achieve 183% of the originally available pixel size with a shift of 2x10mm horizontally. The resulting image angle will be comparable to a 80mm lens (on correlation to 35mm format). For example, if you stitch two exposures as portrait formats, this will result in a usable chipsize of 44x36mm (at 4 mm overlapping), this gives you a picture diagonale of 56.8 mm opposing a 43.2 mm diagonale at 24/36 = Factor 1.3 ! With crop sensors and a chipsize of 1:1.5, the gain with a 3-time-exposure/stitch is about 250% (a Nikon D2x will result in 30 Mpixel!).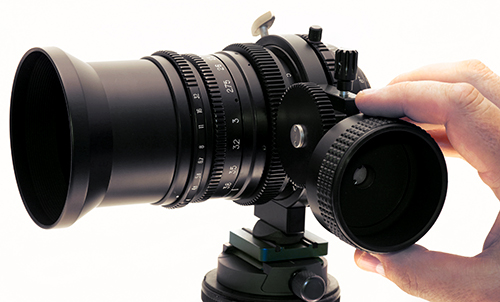 You can achieve up to 8 degrees of tilt.
World premiere: Our new Superrotator Makro has a built in second focusring-which gets you as close as 75cm (Objectsize approx. 145x95mm 1:4).according to the chipsize you will have different depth of field - info and calculator you will find here.
All Hartblei Shift- und Tilt-lenses are so called Superrotators, meaning that the Shift and Tilt functions can be used independently with 360 degrees rotation. With this lens you can almost substitute a view camera.
The Hartblei Macro 4/120 TS is the specialist for close-ups with superior image quality, even at full aperture and scales of 1:20 to 1:1 (with extension tubes). It is perfect for commercial and ad photography, analogue and digital, outdoor photography, industry and documentation.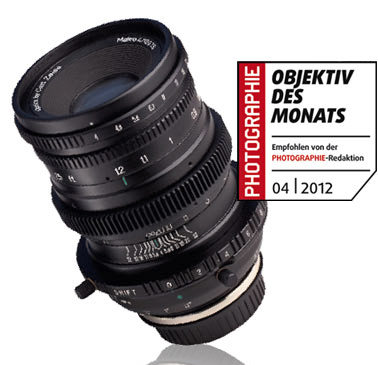 .


The lens is based upon a construction that keeps the image quality on a high level across the whole frame, mostly independent of the scale or the distance to the object. This concept offers a high potential for close-ups.

Technical Data:
Number of lenses: 6 in 4 Groups
Maximum Aperture: 1:4
Minimum Aperture: 1:32

Number of Aperture Blades: 12
Minimum focusing distance is 75cm
1:4 scale with an objectfield of 145x95mm
Focal Length: 120,9 mm
Weight: about 935 Gramms (depends on camera mount ordered)
Filter diameter: 72x0,75


Available mounts:
Canon EF
Nikon F
Sony/Minolta
PentaxK
Leica R
Contax

This is a link to the Test of the 120mm on DPReview: www.dpreview.com/lensreviews/hartblei_120_4_pc_n10/

A flyer with technical data for Download you find here as a pdf : Flyer_E_web.pdf 250 kb Sectional view: