Informations techniques
Pourquoi shift et tilt?
D'authentiques objectifs numériques!
Optics by Carl Zeiss
Prototypes Hartblei
Prototype 4/40 IF TS
Prototype 2,8/80 TS
Prototype Makro 4/120 TS
Set 40/80/120 mm
Accessoires
Logiciel Nurizon Acolens
Mires de couleur et de netteté
Whatsnew at HCam?
15.02.2012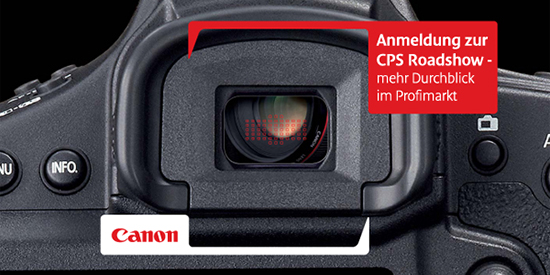 Canon Road Show mit Hartblei HCam/Neuheiten
Lernen Sie Neuheiten wie die EOS-1D X mit 61 Autofokuspunkten oder die neuen High-End EOS-Cinema-Systeme für den Film-Bereich kennen , hautnah und in Aktion. Dazu viele weitere brandneue Produkte wie die XF-Camcorder, Powershot-/IXUS-Modelle, die neuesten EF-Objektive und Fine-Art-Großformatdrucker für den Fotodruck. Außerdem erwarten Sie interessante, innovative Produkte der teilnehmenden etablierten Premium-Marken aus der Film- und Fotowelt: Arri, Certon, Eizo, Globell, Hartblei, Hasselblad, Hensel, Nurizon, Phase One, Profoto, Schneider-Kreuznach und Zeiss.
Veranstaltungsorte/-termine (jeweils 12:00 - 19:00 Uhr, Eintritt frei):
13.03.2012: Havelstudios Berlin Havelchaussee 161, 14055 Berlin
15.03.2012: XSIGHT Mietstudio Groß-Gerau Neuweg 16, 64521 Groß-Gerau
20.03.2012: Alte Kelter Fellbach Untertürkheimer Str. 33, 70734 Fellbach
22.03.2012: Eisbach Studios München Berduxstr. 30, 81245 München
27.03.2012: Odysseum Köln Corintostr. 1, 51103 Köln
29.03.2012: K-Studios Hamburg Farnhornstieg 10, 22525 Hamburg
Anmeldungen zur CPS-Roadshow 2012


01.02.2012
HCam - Hartblei has moved
since 01.02.2012 we have opened our new office in beautiful Allgäu
Stefan Steib
Haupstr.47
88161 Lindenberg
Tel. +49(0) 8381 48 79 337
Fax +49(0) 8381 48 79 179
Mobil +49(0)171 8190 488
Mobil Ukraine +38 096 4879191
E-Mail s.steib@hartblei.de
Skype: Stefan.Steib LinkedIn: Stefan Steib

12.09.2011
Hcam-Hartblei on Dinkel Openhouse
in München 09.11.11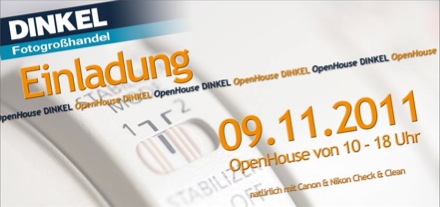 Openhouse at Dinkel München
Again as every year: DINKEL has OPEN HOUSE on wednesday, 09.11.2011
starting 10am to 6pm Uhr, with HCam-Hartblei and our new products- HCam Charger and TS-E Klammer Long for HCam-B1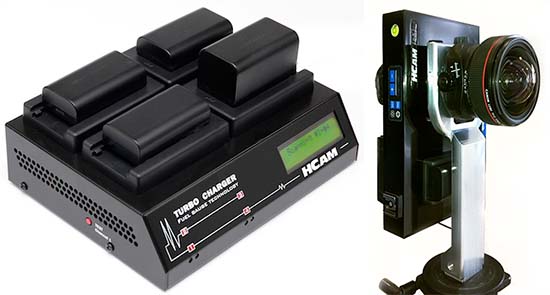 .

please enroll at
jasmina.paprikic@dinkel-foto.de or 089 / 55 21 81 15

21.09.2011
HCam - Hartblei on Foodphoto Festival Tarragona 2011
Foodphotography -Meet the Pro«s Scene in Spain 29.09.to 02.10.2011
Hartblei HCam-B1 + Superrotators shown at PCP c/o Isarfoto Bothe in Tarragona,


.


12.09.2011
Hcam-Hartblei on PPL Openhouse in Karlsruhe 20.+21.10.11


Openhouse at PPL Karlruhe
PPL Info events have become a real institution. Lots of interest of our customers and new products with interesting features have motivated us to hold another event of the PPL Openhouse , this time also with HCam-Hartblei as guests.

So we present latest news and products on 2 days at PPL One stop in Karlsruhe. Studio and Store will become space for actions. Camera checking and cleaning by Canon and Nikon Germany Pro services, lots of talks with colleagues , exhibitors and PPL-Team. Expect attractive offers on both days !

25.07.2011
Canon TSE 17+24mm tripod collar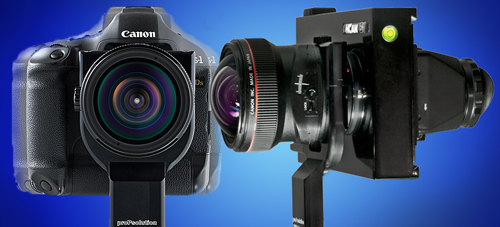 TSE Adapter with 17mm and D1sIII
The proPsolution TSE Adapter enables Camera shifting instead of Lens shifting with the new Canon TS-E 17mm and TS-E 24mm Version II.

The barrels are fixed with this spezial Tripod collar which is adapted to these 2 Lenses. Using the the Canon TS-E 17mm you can reach up to 124 degrees of diagonal image angle with stitched images. Compared with a single 24x36mm format shot you will achive an 11mm Wideangle effect.

The adapter is made of extra quality, black eloxed, milled aluminium. Dimensions:
19,0 x 9,5 x 3,0 cm , Weight: 370g , 3 Tripod threads 3/8inch Proudly Made in Germany, 5 Years of guarantee.

Content of Package: TSE Adapter, Reduction thread (3/8 inch to 1/4 inch),
Allen key for Montage, transport bag.

Price 490.00 Euro incl. 19% VAT in Germany ( netprice 411,76 Û + shipment, for EU add your VAT number at order )

Introduction price valid through 31.08.2011

Compatible Lenses: Canon TS-E 17mm/4.0 L Tilt/Shift , Canon TS-E 24mm/3.5 L II Tilt/Shift Recommended DSLR-cameras : EOS-1 Ds Mk III or EOS 5D Mk II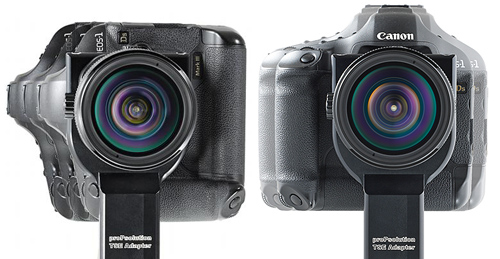 TSE Adapter with 17mm and D1sIII

14.06.2011
Hcam-RB/RZ-645 Adapter
High Quality Mamiya RB/RZ lenses on all modern 645 + 35mm Digitalbodies.
See the announcement (in English) on forum.getdpi.com the product page is here
(or click on the 2 images below), the text in English as a PDF is here PR_HCam_RZ_Adapter_EN2.pdf


08.06.2011
Hcam-B1 now with changeable back adapters
All new HCam-B1 cameras now receive changeable back adapters for all backs - Hasselblad V+H and Mamiya 645 (Contax 645 on order) - price will stay until end of june, after that will be raised + 300 EUR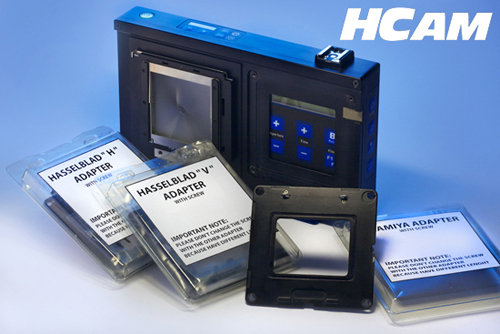 .


08.06.2011
Hcam-B1V available
The new solution for professional studio photographers, perfect replacement for Sinar M Systems.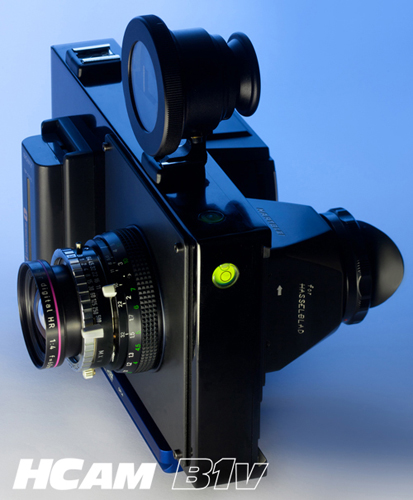 .


28.03.2011
Hartblei on the PCP Tour 2011 in 6 german cities
With this roadshow the german PCP dealer organisation wants to give an overview of the product spectrum of the most important professional gear Suppliers. On show: the new HCam-B1v+ new Video Superrotators with built in clamps (80+120mm). Link to the PCP site
Dates:
03.05.2011 München
05.05.2011 Stuttgart
07.05.2011 Frankfurt
09.05.2011 Dresden
11.05.2011 Berlin
13.05.2011 Hamburg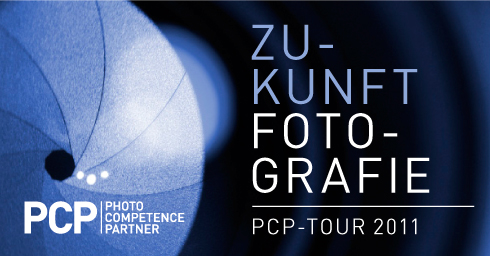 .


15.11.2010
Hartblei HFocus first Sidefocus especially for Photo Lenses
Hartblei introduces several new products : HFokus, HLens and the new HCam Versions B1i and B1v. read the full Pressrelease (in german-sorry) on Photoscala.de!


.


01.10.2010


Roadshow, see Hartblei HCam and more
Canon Professional show on the Road: Meet the Canon-Professional-Service-Team in person on different locations in Germany. The show with free entry delivers Keynotes, Live-Shootings, Large-Format-Prints, Productdemonstrations and of course all the autumn new releases; life and "in color" touring from Fellbach to Köln during 16. November till 02. December 2010.
On the show there are Profoto as Premium-Partner und further Adobe, Apple, Certon, EIZO, HARTBLEI, Hasselblad, Leica, Nurizon, Phase-One, Schneider-Kreuznach, Wacom and Zeiss.
Tour stations are (open 12:00 am - 7:00 pm, free entry):
16.11.10: Alte Kelter Fellbach Untertürkheimer Str. 33, 70734 Fellbach
18.11.10: Botanikum München Feldmochinger Str. 75-79, 80993 München
23.11.10: Umspannwerk Berlin-Kreuzberg Paul-Lincke-Ufer 20-22, 10999 Berlin
25.11.10: Technische Sammlungen Dresden Junghansstr. 1-3, 01277 Dresden
30.11.10: Union Halle Frankfurt Hanauer Landstr. 184, 60314 Frankfurt am Main
02.12.10: Odysseum Köln Corintostr. 1, 51103 Köln
Here you got roll in the CPS-Roadshow 2010


15.09.2010
Hartblei on Test at Diglloyd online
Lloyd Chambers opened his Test of our Hartblei Zeiss lenses to the public, added Updates and additional infos - everything you wanted to know about our lenses !


.


13.09.2010
Hartblei on Foodphoto Festival Tarragona
Foodphotography -Meet the Pro«s Scene in Spain 30.09.to 03.10.2010

Hartblei HCam-B1 + Superrotator shown at PCP c/o Isarfoto Bothe in Tarragona,


.


01.10.2009


Road Show avec Hartblei Cam/Novelties
in 8 Cities 27.10.-19.11.09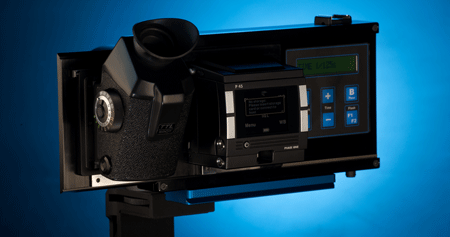 .

Locations/-dates (all Shows 12:00 am - 7:00 pm):

27.10.09: Union Hall Frankfurt Hanauer Landstr. 188, 60314 Frankfurt am Main
29.10.09: Rhein.IndustriemuseumÐZinkfabrik Altenberg Hansastr. 20, Oberhausen
03.11.09: K-Studios Hamburg Farnhornstieg 10, 22525 Hamburg
05.11.09: Meilenwerk Berlin Wiebestr. 36-37, 10553 Berlin
10.11.09: Botanikum Munich Feldmochinger Str. 75-79, 80993 Munich
12.11.09: Vienna/Austria, exact location to be announced
17.11.09: Alte Kelter Fellbach Untertürkheimer Str. 33, 70734 Fellbach
19.11.09: Cologne, exact location to be announced


Enroll Link here


14.09.2009
Launch of Hartblei Cam
- to be ordered and delivered right now !
After a long time of preparation: Hartblei plays with the big boys now. Look for more about the new Hartblei Cam here on our website, at our Dealers or on the Canon Roadshow from 27.10.09 to 19.11.09. see Link. And for those who have waited for a Hartblei T-Shirt desperately - will find this now here. ;-)

New Hartblei Range of Models available
München, 10.12.2008
We proudly present our new models with integrated Tripodmount/Stitchingclamp (parallaxfree Stichting even up to Macro) ,complete reworked mechanics Mechanik made of brass, new hardchromed Mounts to prevent wear and metal dirt on the sensor, Worldpremiere 2. Focusring with 120mm macro Closeup up to 75 cm and 1:4 ,further improved internal Antireflexcoating. The lenses are available immediately and can be rented at several of our dealers for testing. All Users of already sold (Zeiss)Hartblei lenses can have their lenses refurbished to the new status for 300 Euros each.



Phase One introduces Tilt/Shift-Lens first development of Cooperation with Hartblei
München, 03.09.2008
Phase One and Hartblei present the new 3,5/45mm TS on the Photokina Cologne 23.-28.09.2008
Link to Pressreleases :
Photoscala.de in german

pressrelease in English on Marketwire.com

pressrelease and Doku in English on Phase One site


Hartblei Optica est le département de haute technologie de Hartblei Kiev. Nous fabriquons des objectifs innovants haut de gamme, destinés aux photographes professionnels. Vente directe de nos produits par notre portail Internet.
Pour en savoir davantage...
...sur nos produits
...sur nos clients
...sur nous
...sur nos concessionnaires
Nous nous ferons un plaisir de répondre à vos questions.
Stefan Steib
Hauptstr. 47
88161 Lindenberg
Tél. +49(0) 8381 48 79 337
Télécopie +49(0) 8381 48 79 179
Mobile +49(0)171 8190 488
Mobile en Ukraine +38 068 358 411 9
Courriel s.steib@hartblei.de

The new Hartblei-Cam
par Stefan Steib


Canon 5D II,Hartblei Macro 120mm,ISO 100, f/11, 1/125 sec


"Does it sound as if I'm enthusiastic about this lens? Yes, and with good reason."

Michael Reichmann of
www.luminous-landscape.com
on the Hartblei 45 mm lens