HCam-B1 Camera
A Revolution
HCam-B1
Benefits
Comparison
Data Sheet/Specification
Hartblei Lenses
Why Shift and Tilt?
True Digital Lenses!
Optics by Carl Zeiss

Hartblei 4/40 IF TS

Hartblei 2,8/80 TS

Hartblei Makro 4/120 TS

Set 40/80/120 mm
Accessories
Cases
Color- and Focus-Targets
RB/RZ-645 Adapter
Filters and Sunshades
Canon-TSE-Collar
Nurizon Acolens Software
Stitchclamp
Support Stand
Buying Hartblei
Price List
Leasing
Special Offers
Dealers
NEW: Nurizon-Acolens 2.0 Supershift for Hartblei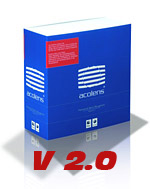 On the launch of our new HCam-B1 , Hartblei and Nurizon announce the new Version 2.0 of ACOLENS Software for correction of image errors caused by the lens
The partnership will first implement the software for the product line of Superrotator Shift- and Tilt-Lenses, manufactured by Hartblei in Kiev. Based upon a patent on the unique Shift- and Tilt-Mechanism the software will further improve the already excellent results of the lenses (optics by Carl Zeiss) when used with digital 35 mm cameras. But even the highest quality standards can not bypass the natural physical limits during lens production. These remaining errors (e.g. at the corners of the frames) will be corrected almost 100% by the new ACOLENS by Nurizon software.
The partnership between both companies is a logical consequence from the symbiosis between analogue and digital features in the professional photography. While Hartblei uses highest standards to manufacture their lenses (i.e. the analogue part of the photography process), Nurizon corrects the few remaining errors with their ACOLENS software, thus ensuring a perfect handover between the analogue and the digital world.
The correction algorhythms used by ACOLENS are based upon an individual and highly precise measurement of the Hartblei lenses. Nurizon developed an new reference sheet for this.
Instead of manipulating and editing images during post production, you can easily optimize your photos according to neutral and independent criteria. The application of the hardware/software combination is a unique and innovative end-to-end solution for the professional photography.

Architecture at Night
Landsbergerstr., Munich, Germany
by Stefan Steib


Hartblei 4/40 IF TS with Canon 5D, Tilt 2º, ISO 640, f/4, 1/30 sec


"Shot from the hand, as the tripod was packed away already. Oktoberfest 2006, on my way home."

Stefan Steib