Parallaxfree shifting with TS-E lenses on HCam and SLR-Systems
Shiftable lenses on adjustable viewcameras are moved in parallel to the chip/film plane away from the image center (Front- or Backshift), to keep correct perspective projection. Parallel lines on the photographed object must be kept. Architecture - and Advertising Photographers use this technic on a daily base.

DSLR Cameras allow this correction with the help of shift- or shift tilt lenses. These have a larger usable image circle plus a mechanical construction which allows this movement. Canon offers several TS-E lenses which are filling large enough image circles to cover medium format. The usable shift movements for 24x36mm format are 12mm off center.

It is not relevant for single images if you use front- or backshift. But moving the frontlens For 2 or more images that need to be stitched, will end in a so called parallax error with slightly differing images, which makes exact postproduction montage much more difficult. A DSLR which is mounted directly to a tripod is doomed to generate this Error as only the front lens can move. This will be even more apparent the closer parts of the image are to the front lens, resulting in ghosting and and double contours.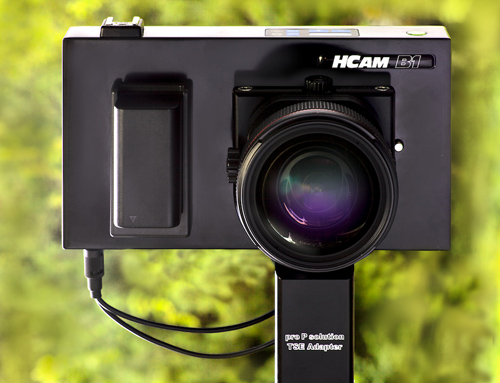 ProPSolution with HCam-B1
Now mounting the Lens on a tripod collar /the proPsolution TSE Adapter Solves this problem. The Shift can be done wih the camera (comparably to backshift of the view camera), the lens stands still several stitched images will fit perfectly (Flat stitches!) You can use either Portrait or landscape stitching with as many images as you may need .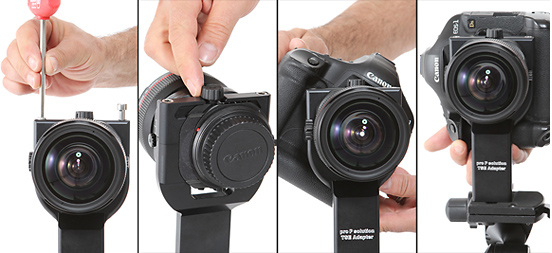 ProPsolution Operation
These images can be automatically stitched within e.g. Photoshop or other Pano capable software. No Nodal point corrections or side shifts are needed, saving a lot of time. Additionally as the stitched final images have a larger format and the Focal lenght stays the same, the achievable Image angle grows to 124 degrees with 24x36 Systems or over 135 degrees with HCam-B1 (www.HCam.de) and Digital MF backs up to 80 Mpix.

This means world record wideangle with highest quality to shoot even the most demanding Narrow spaces as in car interiors, Hotelrooms, Fairboothes....but also wide spreads of architecture, Industry, as well as technical or creative usage in advertising photography. Additionally the net image size of the used 24x36 systems will be nearly doubled, as of writing this with 22Mpix chips the results will be 120Mbyte of image data (8Bit), with the HCam-B1 this will still be a gain of +50 % so 80MPix will become 120x3=360 MByte of image data. This with best sharpness and definition.

And last but not least the built in 90 Degree rotation of the Canon Lenses shift to tilt mechanism will enable instant and centered Portrait to landscape change, a unique comfort feature. This new proPsolution TSE Adapter is more than only an optional accessory for your 17mm and 24mm TSE Canon lenses. There simply is no alternative device with this image angle, rugged construction and handling with easiest operation.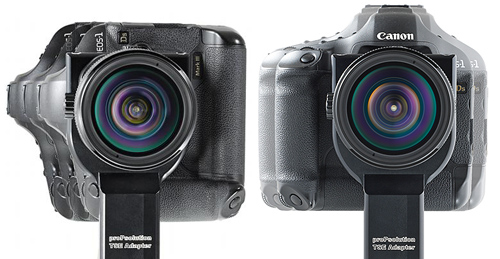 TSE Adapter with 17mm and D1sIII
The adapter is made of extra quality, black eloxed, milled aluminium.

Dimensions: 19,0 x 9,5 x 3,0 cm , Weight: 370g , 3 Tripod threads 3/8inch

Proudly Made in Germany, 5 Years of guarantee.

Content of Package: TSE Adapter, Reduction thread (3/8 inch to 1/4 inch), Allen key for Montage, transport bag.

Price 517,65 Euro incl. 19% VAT in Germany ( netprice 435,00 Euro + shipment, for EU add your VAT number at order )

Compatible Lenses: Canon TS-E 17mm/4.0 L Tilt/Shift , Canon TS-E 24mm/3.5 L II Tilt/Shift

Recommended DSLR-cameras e.g. : EOS-1 Ds Mk III or EOS 5D Mk II and MK III

Specialedition TS-E Adapter for HCam-B1 - 6,5 cm longer holder 25,5 x 9,5 x 3,0 cm - weight 470gramm

Price 708,05 Euro incl. 19% Mwst in Germany ( Net price 595,00 Euro + shipment, for European community customers with VAT deduction please send your VAT Number )

Further Information and orders:
Stefan Steib
Hauptstr.47
88161 Lindenberg
Tel. +49(0)8381 48 79 337
Fax +49(0)8381 48 79 179
Mobile +49(0)171 8190 488
Mobile Ukraine +38 096 4879191
E-Mail s.steib@hartblei.de
Skype: Stefan.Steib LinkedIn: Stefan Steib Facebook: Stefan Steib